Unveiling Insights on UDT
Last week was a heavy earnings week with many companies reporting on their financial health. Scrolling through the Unstructured Data Terminal (UDT), we found some examples of securities with abnormal behavior in the summary statistics. Below is the screenshot of the 'Grid' page on the UDT. We look for instances where 'Sentiment Change' and 'Word Count Change Percentage' do not align. These statistics look at how the filing changed quarter over quarter or year over year. Since Word Count and Sentiment are correlated, if there is an increase in the number of words in a document, we expect an increase in sentiment as well. When these metrics don't behave as expected, we dig further into the company and filing.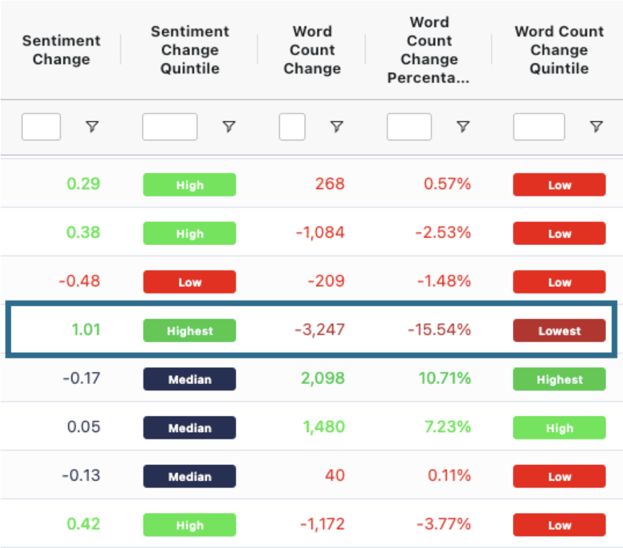 Above you can see a filing that had a large decrease in word count and a large increase in sentiment. This means the company removed negative information from the filing signaling the risk or liability is no longer of concern. The company could have updated information, which led to an increase in sentiment. The company highlighted above is Monster Beverage Corp. (MNST) and from the metrics displayed, we would expect the company to outperform the market over the near future. We also investigated MNST's Earning Call and see similar behavior.

Above are the two most recent Earnings Calls for MNST. We see the same pattern where Word Count decrease and Sentiment increases. When digging into the Earnings Call you can see a question asked about guidance for the upcoming quarter's gross margins. Below is the response from Monster's President:

Gross margins were better than expected quarter with a price increase during the quarter and they expect this to continue with a full quarter reflected. With sentences highlighted green for positive sentiment and red for negative sentiment, it's easy to scroll through the document to see portions of text with significance.
On Twitter, MNST had neutral sentiment going into Earnings. After the call, number of Tweets from credible Twitter accounts doubled from 5 to 10 and sentiment spiked positive.


The stock price of MNST jumped up over 7% after Earnings were released. With Context Analytics' Unstructured Data Terminal, users can receive alerts and quickly act on information relating to textual data. Whether that be Social Media, Earnings Calls, or Regulatory Filings stay informed with UDT.