UDT Case Study – Coinbase Lawsuit
This morning, the Securities and Exchange Commission (SEC) filed a lawsuit against Coinbase, accusing the company of operating its crypto asset trading platform without proper registration as a national securities exchange, broker, and clearing agency. Consequently, the price of Coinbase's shares has plummeted by over 15% throughout the day. However, it is important to note that today's events were not entirely unforeseen. In this blog, we will examine the events leading up to this incident and shed light on potential signals that may have been overshadowed by the surrounding noise. By doing so, we aim to highlight the utility of the Unstructured Data Terminal from Context Analytics.
The Unstructured Data Terminal (UDT) is an innovative platform that seamlessly integrates various sources of information, such as SEC filings, ESG (Environmental, Social, and Governance) reports, earnings transcripts, as well as their sentiment metrics. By harnessing the power of the UDT, users gain convenient access to crucial textual data, presented in an intuitive dashboard format.
Through an analysis utilizing the UDT, we discovered a noteworthy trend within Coinbase's quarterly reports. Specifically, we observed a consistent increase in the word count of the Risk Section over the past nine quarters. This finding holds significant implications for understanding Coinbase's evolving risk landscape and provides insights into the company's potential vulnerabilities.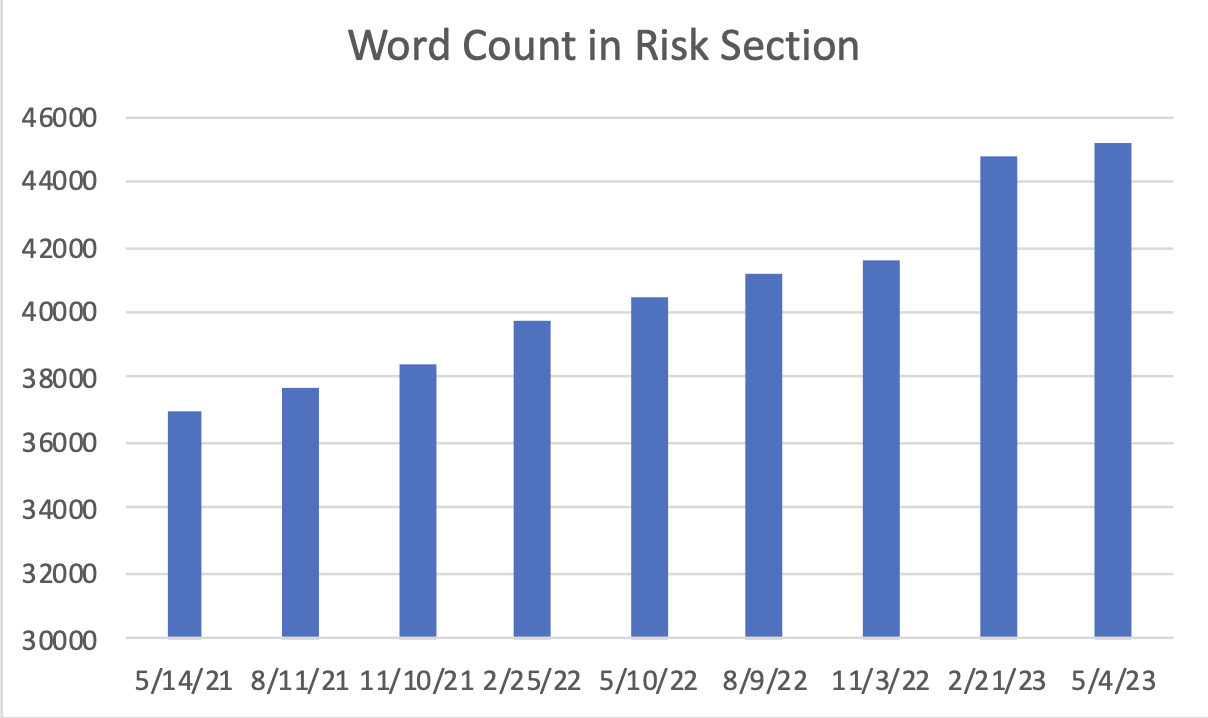 Over the same period, the sentiment in these filings has also significantly decreased.

In addition, with UDT's comparison tool, we can identify risks that were new additions to the most recent quarterly report. We find a very significant addendum to the risk subsection concerning government regulations and oversight.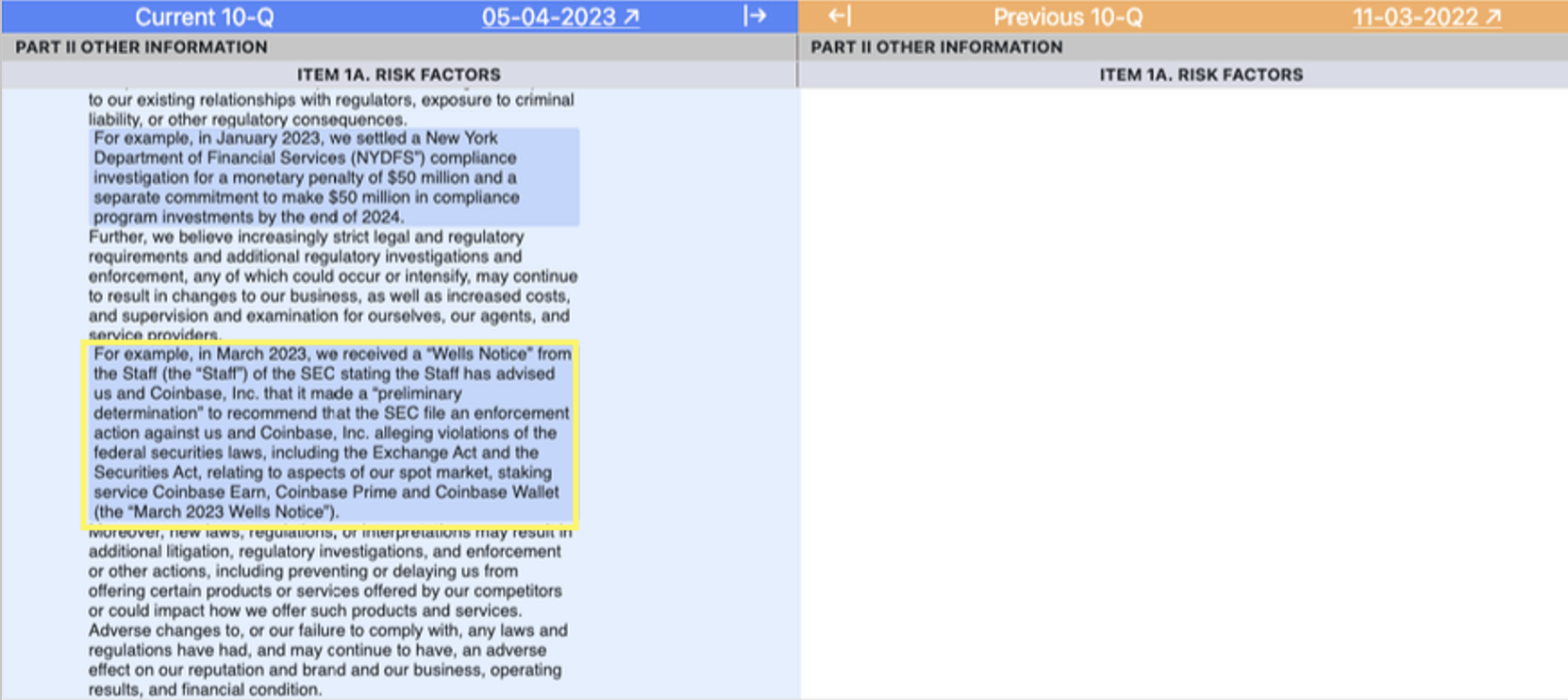 The emergence of potential actionable lawsuits due to violations of federal laws becomes evident when examining the risk factors outlined in quarterly reports. It is important to note that these risks are not unique to the Coinbase report but are also mentioned in the filings of other companies, such as Robinhood and Cipher Mining. As anticipated, these risks have now materialized, as the SEC made a statement this morning charging Coinbase. Consequently, legitimate concerns regarding the future of Coinbase have arisen, resulting in a significant decline in its stock price.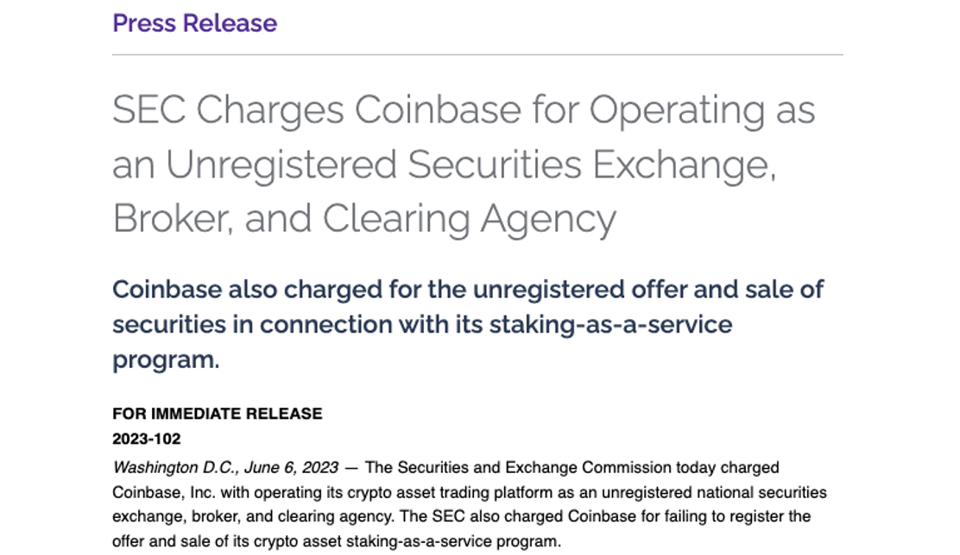 This incident highlights the practical application of the Unstructured Data Terminal (UDT) by Context Analytics as a valuable tool for risk assessment. In the vast amount of textual information provided by companies in their filings, crucial details can easily get overlooked. However, Context Analytics offers a solution by enabling users to identify significant changes that companies may not explicitly address in public statements.
By utilizing the UDT, investors and analysts can leverage the power of Context Analytics' products to gain deeper insights into potential risks. These insights can play a crucial role in assessing the overall risk profile of a company. To explore the ways in which Context Analytics' products can aid in risk assessment, visit https://www.contextanalytics-ai.com/ or contact us by clicking the button below!