Twitter Blue: Why Verification doesn't influence Social Sentiment
Twitter's new 'Twitter Blue' product allows users to pay for verification to gain more influence on the platform. This does not affect Context Analytics' Social Sentiment metrics because 'Verified' is not a factor in our Account Rating Algorithm.
With Elon Musk's takeover and new leadership in place, many expect changes to Twitter's platform. One of the first noticeable changes was the roll out of the 'Twitter Blue' product in the United States. This allows a user to pay $8 a month to gain a blue checkmark or verification on their profile.
While many at Twitter thought this new product would reduce the number of bots and spam displayed on people's feeds, it only enhanced the spread of misinformation. Users began impersonating influential people and corporate accounts by changing their profile name and picture while paying for a blue check mark. Over the past two weeks there have been multiple instances of fake corporate accounts Tweeting and the stock price of the security reacting. One example being a fake Eli Lilly account Tweeted "insulin is free now" and it cost the company Billions in Market Cap.
Yesterday, Musk informed the public that Twitter Blue will be temporarily unavailable due to this impersonation issue.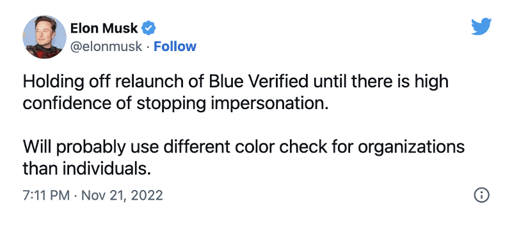 At Context Analytics we have our own Source Rating Algorithm developed for Twitter Accounts which quantifies an account's relevancy for financial trading. Twitter Accounts that have passed the algorithm's threshold are included in CA's S-Factor and Activity metrics moving forward.
We look at account characteristics such as account age, # of followers and friends, and # of lists the account is included on. We do not look at 'Verified' because other factors (# of followers and # of lists) accounts for the influence of the Twitter account.
All other features of the algorithm are purely based on the account's previous behavior. We look at Tweet Frequency, # of tickers per Tweet, distribution of tweet sentiment, diversity of tickers, and prediction accuracy over multiple time horizons.
What matters is not what's being said, but who is saying it. Using Twitter account features paired with historical Tweet behavior is an accurate way to determine the relevancy of a Twitter account.