ESG Trends to Look for in 2023
Context Analytics released Global Machine Readable Filings (GMRF) in partnership with S&P Global Market Intelligence in April 2021. GMRF offers parsed textual data from nearly 100K international companies' Annual, Semi-Annual, Quarterly, and ESG reports, totaling around 4.5M documents. This encompasses all five types of ESG reports, such as Sustainability and Corporate Governance Reports. Unlike traditional corporate documents focusing on past performance, ESG reporting is future focused. This enables investors to track a company's targets and goals in real time.
Using Context Analytics parsing technology, these magazine-style documents are analyzed according to the structure of the underlying document, a text is organized in a multi-level JSON format. With these documents, it is easy to extract specific sections or phrases, identifying the latest trends and developments within ESG. This allows for the use of advanced textual analytics such as comparisons/ red-lining, word searches, word counts, sentiment, entity extraction and more.
Below is a demonstration of how you would use some of the advanced textual analytics techniques mentioned above, using Context Analytics' Unstructured Data Terminal (UDT).

Here is an example from Toronto-Dominion Bank Environmental Report. Text above is highlighted in green from the positive sentiment of targeting net-zero emissions. Negative sentiment is highlighted in red. Darker shades of each color show extremely positive/negative sentiments.
From the screenshot above, say a user wants to know how many global ESG documents have mentioned 'GHG emissions'.

Here is a snippet of the UDT's ThemeX Search feature, allowing users to input words or phrases they would like to pinpoint in certain document types.

After searching, you can see that 392 companies, across 470 ESG documents have mentioned 'GHG emissions'.

From there, you can go in and select each individual company and see how the companies use the word or phrase. You also see mentions over time. You can see if a company's future plans are decreasing emissions like TD Bank above or increasing emissions like Suncor Energy below.

Another use case through ThemeX is the ability to search our Twitter sentiment feed.

By modifying the 'Search From' field (inside red square) you are able to see a Tweets from based on your search criteria. Below is a preview of the Twitter feed: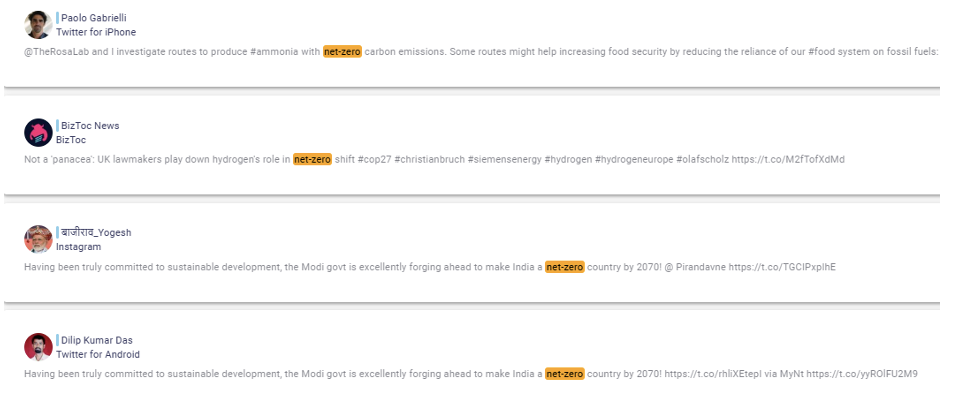 This gives users a comprehensive guide on how investors can derive value quickly with Context Analytics' UDT. Context Analytics also provides the raw data parsed JSONs of ESG files through GMRF.
ESG investing is gaining popularity as it helps investors manage risk, seize opportunities, and align their investments with their values and priorities. In 2023, there will be an increasing trend of mainstream investors and financial institutions integrating ESG analysis into their decision-making and research, as well as a growing number of ESG-focused investment products and indices being launched. In addition, the governance aspect of ESG will receive increased attention as investors recognize its importance for long-term corporate performance and value creation. Some phrases to keep an eye on going into 2023 include board diversity, anti-corruption measures, and executive compensation.
As awareness of the benefits of ESG investing grows, the demand for ESG-related products and services is likely to continue to increase, supporting the transition to a more sustainable planet and economy, and potentially providing investors with better long-term returns.
If you would like to stay ahead on these ESG trends using Context Analytics patented technologies, please click the button below!