Context Analytics Data on the FTX Collapse
The collapse of FTX sent shockwaves around the Crypto world. Context Analytics' tools were able to identify red flags in the company hours before the collapse of FTX and FTX token.
---
---
Last week the cryptocurrency market was severely impacted by FTX's collapse and eventual bankruptcy. This led to many crypto investors taking losses and questioning the risk of crypto assets once again. While this was happening, Context Analytics looked at Twitter Sentiment and Volume on the topic. Context Analytics calculates sentiment on 150+ private companies, FTX being one of them.
Through Context Analytics' Cryptocurrency S-Factor feed, a user can look at Twitter Sentiment and Volume on FTT.X (FTX Token). Below is a graph showing Twitter Sentiment (S-Score) and Volume (S-Volume) on FTT over a 2-week period. The orange bars are S-Volume, a 24 hour rolling count of the number of Tweets on FTX Token. The blue line is S-Score, a rolling 24 hour sum of Twitter Sentiment on FTX Token compared to the previous 20-days.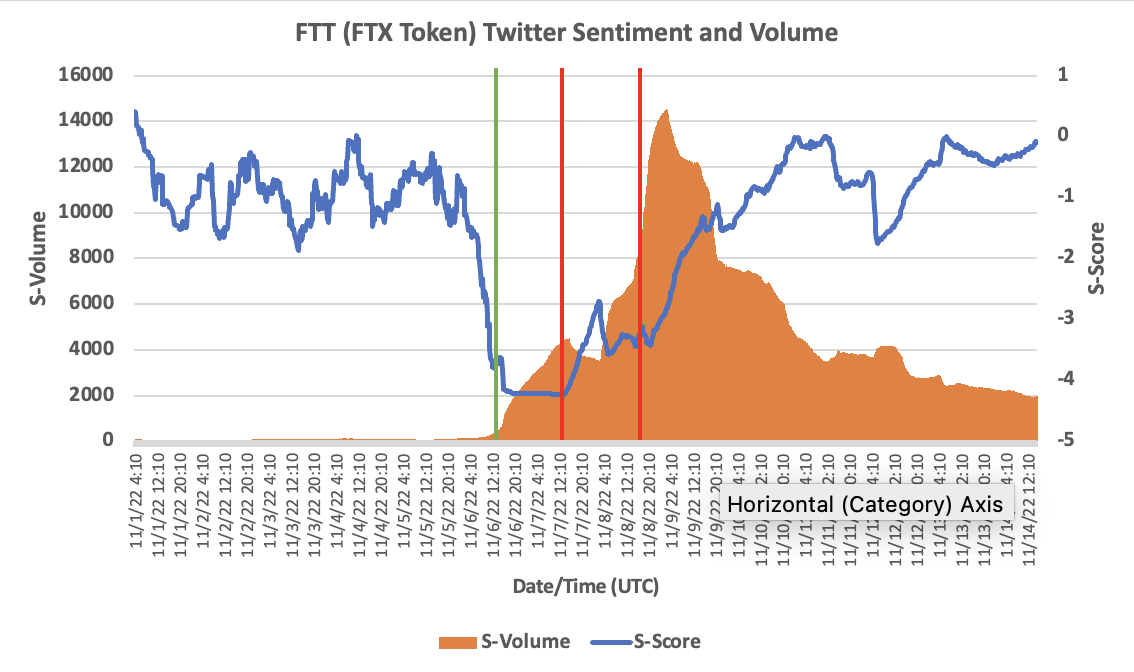 At 9:47am CT on November 6th, the CEO of Binance, Changpeng Zhao, Tweeted that Binance was liquidating all positions on FTT immediately.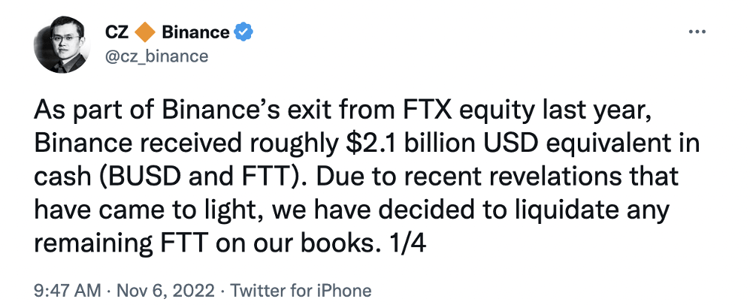 This dramatically increased Tweet Volume on FTT over the next day. In the graph above, the green vertical bar indicates when this Tweet was published.
As you can see, S-Score had already dropped significantly before Zhao's Tweet due to negative conversation. Historically we've seen FTT's typical S-Volume is between 50 to 150 Tweets each day. This was the case heading into November 6th, but from 12:40am to 9:40am (right before Zhao's Tweet) FTT's volume rose from 154 to 670 Tweets. By noon there were over 1500 Tweets. The overnight conversation, which consisted of negative rumors and comments around trading activity, pushed the S-Score from negative (-1.5 S-Score) to significantly negative (-4.2 S-Score) even before Binance's CEO commented.
The two red lines in the graph are times when the price of FTT dropped significantly. These price drops happened roughly 1 and 2 days after Zhao's Tweet. Context Analytics' S-Score remained significantly negative during this period with extremely high Tweet Volume on the topic.

Another way Context Analytics is tracking the exchange FTX is through our Private Companies asset class. Below is a screenshot of FTX's 30-day average sentiment, a barometer of long-term company sentiment. On November 6th, the 30-day sentiment was slightly positive. That changed over the ensuing days as more information was released regarding FTX's malpractice.

The 30-day sentiment would only increase or decrease significantly if there were such a high Tweet Volume in a short period of time. The negative news on FTX over the past week has collapsed the company to the point of bankruptcy and the public perception on the company has never been lower.
With the cryptocurrency market in a state of limbo, investors are wondering who's next? News breaks on Twitter and being informed and monitoring risk on assets through the lens of social media has proven insightful.